Rolf Harris painting of Bonnie Tyler fails to sell again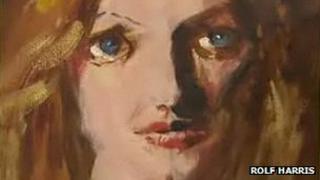 A Rolf Harris painting of singer Bonnie Tyler, valued at £50,000 on the Antiques Roadshow, has failed to sell at auction for a second time.
The painting, owned by Cathy Sims from King's Lynn, was given the valuation on the BBC show last year.
In May, the painting failed to reach its reserve of £30,000 at Downham Market Auction Rooms in Norfolk.
Earlier at John Taylors Auctioneers in Louth, it failed to reach a lower reserve of £25,000.
It is not yet known whether Ms Sims, who won the painting as a child at a charity auction in Lincolnshire, will auction the painting for a third time.
Alastair McPhie-Meiklejon, from the auctioneers, said the painting had attracted a lot of interest, including from overseas buyers.
"Rolf Harris is such a well respected artist in his own right - since he did a portrait of the Queen he has gone from strength-to-strength," he said.
Three other works by the Australian artist were successfully sold by John Taylors in April - with one work selling for more than £20,000.