Paralympic ski hopeful makes Facebook appeal for guide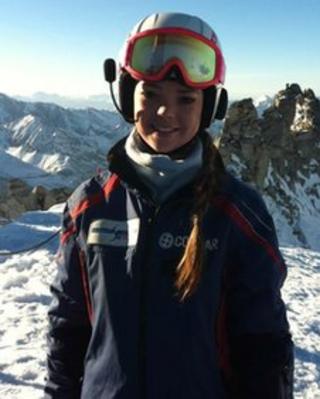 A visually-impaired skier who needs a new guide to help her make the Winter Paralympics GB team has posted a job advert on Facebook.
Jade Etherington, from Bourne in Lincolnshire, needs to find either an ex-racer or an instructor to help her train and to race with her.
Last season the 21-year-old racer progressed to World Cup level and had 20 out of 22 podium finishes.
She said her ambition was to win gold at the 2014 Paralympic Winter Games.
The trainee teacher and member of the British Disabled Ski Team said: "It's a big ask, but I really just need someone to help."
'Good understanding'
Miss Etherington was born with glaucoma, had six eye operations before the age of 12 and began to lose her sight permanently three years ago.
She said she was committed to achieving her goal and expected the same level of commitment from her guide.
Anyone considering the role would need to be prepared to make "a big sacrifice" over the next 18 months, but if successful could be in with a chance of getting their own gold medal as part of the team in Sochi, Russia, she said.
She added the training could be quite complex and a good understanding with the guide was vital to her success.
The skier said: "The guide skis in front and via radios in our helmets tells me when and where to turn.
"We need to know what each other is thinking to get down the course safely."
The 21-year-old is about to set off for training in Holland, where she will be classified ahead of the first World Cup race of the season.
She said she needed to secure the services of a guide before she could compete in any races and apply for funding.
"I just need to try to concentrate on the couple of next races ahead and not look too far into the future, even though Sochi is just 18 months away," she added. "A lot can happen in a ski season so I need to focus and be prepared.
"Being a visually impaired athlete and a winter athlete it's really difficult. The sport is twice as expensive as you have to pay for yourself and for the guide.
"The sacrifice is huge, I've had to give up education to continue my commitment to skiing and as I'm away for a whole season I miss friends and family, but I love skiing and I'm happy with my choice, but it is a lot of hard work - hopefully it will be worth it."