Lincolnshire street named 'slowest for downloads'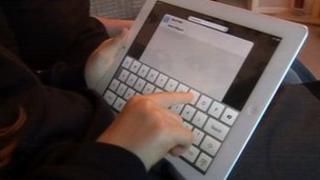 A Lincolnshire street has been named in a survey as the slowest in the UK for broadband download speeds.
The research, by price comparison firm uSwitch, found Cromarty Road, in Stamford, had an average speed of 0.132Mbps.
This is more than 500 times slower than the average speed of 70Mbps recorded in the UK's fastest street, Willowfield in Telford, Shropshire.
The UK's average download speed is currently 9Mbps, the firm said.
The study involved more than two million speed tests run through the firm's website between April and September.
'Expect higher'
A two-hour film would take residents in Willowfield two minutes and 59 seconds to download, while the same film would take 25 hours and 11 minutes for people on Cromarty Road, uSwitch said.
Ledbury Road, in Wellington Heath, Herefordshire, was named as the second slowest while Halsey Drive, in Edzell, Aberdeenshire, came third.
Darwin Avenue, in Allenton, Derby was second fastest and Cromwell Road, in Southend-on-Sea, Essex was third.
Cromarty Road resident Hayley Harvey said slow download speeds made it feel like her internet had stopped working.
"I get my daughter moaning that it's gone off and 'can I sort it?'," she said.
Julia Stent, from uSwitch, said: "The massive discrepancy between the fastest and slowest streets in Britain shows what the government is up against in its fight to drag Britain into the broadband fast lane.
"Most of Britain's slowest streets for broadband are not in particularly remote areas but in small towns, nearer to exchanges and where we would expect to see higher download speeds across the board."