Boston immigration protest prompts warning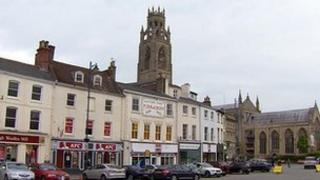 Extremists are being warned to stay away from a protest over immigration in Lincolnshire.
The Boston Protest Group is due to hold a demonstration in the town on 18 November to highlight the pressure put on local services and infrastructure.
Last year a planned march was cancelled partly due to concerns it might become a focus for racial tension.
Organisers insisted they were not challenging the migrant community but wider immigration policy.
The borough council set up a task force to examine problems connected to the large migrant work force in the area.
Children's safety
But those behind last year's march said a council report into the issue had not gone "far enough" and government still needed to listen.
Bob McCauley, a member of the Boston Protest Group, said it wanted to make its point legally.
"We have spoken to police and they have said any trouble or anyone who tries to cause trouble will be dealt with very efficiently and effectively.
"Having it in the market place in Boston will make it a lot easier to control and police.
"And we have emphasised we want a peaceful static protest and any troublemakers, please stay away, we are not interested."
Beata Polanowska, editor of a monthly newspaper for Polish people living in the East Midlands, said: "It is concerning.
"There is a potential that people with right-wing views can use the protest to spread negative feelings towards eastern European migrants.
"I am concerned about the safety of our businesses, our houses and our children at school."
Lincolnshire police said they were talking to Boston Borough Council about the protest and reiterated public safety and confidence was of "utmost importance".
The Home Office has said it was working to cut net migration from hundreds of thousands to tens of thousands by the end of this parliament and its tough new rules are already taking effect.