PCC candidate Mervyn Barrett's campaign team resigns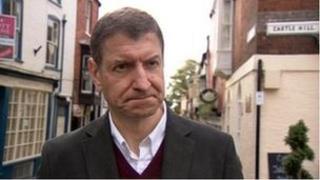 The campaign team supporting one of Lincolnshire's police and crime commissioner candidates has resigned.
The Sunday Telegraph said independent candidate Mervyn Barrett was being "secretly backed" by companies pushing for police privatisation.
His campaign was run by Matthew de Unger Brown from a US right wing lobbying organisation, who said he was asked to work there by the group.
Mr Barrett said he was not "for sale" and had complied with electoral law.
He has stated he is standing because he wants to "keep politics out of policing".
'Very sorely mistaken'
Mr Barrett backs Lincolnshire Police's partnership with G4S, under which two-thirds of civilian staff transferred to the private security firm in April this year.
In a statement on his website, he said he now wished to "consider how best I could continue my campaign" following the resignations.
He said: "I am not for sale, I never have been for sale and I never will be for sale.
"If anybody who donated to my campaign thought differently they are very sorely mistaken.
"It is disingenuous in the extreme to suggest that I am in some way anybody's puppet.
"The policies contained within my manifesto were developed and agreed by me alone.
"They represent the results of my best thinking and my experience developed over three decades in the field of criminal justice.
"I wish to make clear that both I and my campaign are in full compliance with UK electoral law and that we have made strenuous efforts to ensure that this has always been the case."
Mr Barrett worked for crime reduction charity Nacro for more than 30 years and was made an OBE in 1999 for services to crime reduction.
His PCC campaign director and adviser was Matthew de Unger Brown, who is responsible for the European operations of a lobbying organisation called The Fund for the New American Century.
Mr de Unger Brown said it was too simplistic to say his organisation supported police privatisation, but said it did support the involvement of the private and third sectors in policing.
"When the campaign team becomes the story it is not fair to the candidate to continue," he said.
"I would not want to, in any way, shape or form, be the person responsible for potentially damaging my candidate's campaign."
The spending limits for each candidate in the police and crime commissioner elections vary depending on the police area.
In Lincolnshire, candidates can spend up to £99,900.
At the point Mr Barrett's campaign team resigned there were two full-time members of staff based predominantly in Lincolnshire and four or five others who travelled between London and Lincolnshire.
Others standing for election in Lincolnshire on 15 November are Richard Davies for the Conservatives; Paul Gleeson for Labour; independent candidate David Bowles and independent Alan Hardwick.