Lincolnshire sausage appeal rejected by minister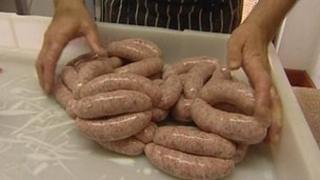 Moves to secure legal protection for the Lincolnshire sausage have suffered a major blow with the rejection of an appeal.
Campaigners wanted government backing to make sure the sausage could only be made in the county.
An initial application for protected status was rejected in May and now officials have turned down the appeal.
Food Minister David Heath said there was not a strong enough local link to the popular pork product.
The Lincolnshire Sausage Association said it would continue its efforts.
'Sausage benefits'
Janet Godfrey, the association's chairman, said: "We are very disappointed by this decision.
"We felt we had done more than enough to show the links and benefits of the sausage to the county.
"I do not understand the reasoning of Defra and we will look at ways of carrying on with our campaign."
Food and Farming Minister David Heath said he backed the idea of protected status.
"But to be eligible products must have an enduring link with a specific area.
"The evidence provided by the Lincolnshire Sausage Association did not demonstrate this and the new information provided in its appeal has not persuaded us to change our decision to reject the application.
"We remain open to looking at other options which would allow producers in Lincolnshire to highlight the traditional and local nature of their sausages."