Lincoln Christmas market layout changes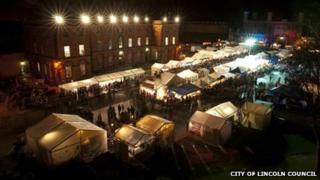 A council in Lincolnshire has made a number of changes to the layout of a Christmas market which has suffered from overcrowding.
The German-style market in Lincoln was attended by about 350,000 people across four days in December.
Police had to close off the entrance to Lincoln Castle on the Saturday over fears of public safety.
The City of Lincoln Council said it has changed the market's layout so there is no two-way pedestrian traffic.
Holly Parker, events officer at the City of Lincoln Council, said: "We've designed the castle to mean the flow of traffic going through is all one-way and we don't have any two-way traffic.
"We've also worked on a system where people come up Steep Hill and down Spring Hill, again, reducing the need for any two-way traffic where any conflict could happen."
The council said it had seen a 25% increase in visitors at the Christmas event last December, which led to comments about the market being too overcrowded to enjoy.