Paul Henry on trial for Gainsborough attempted murder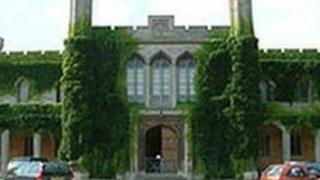 A man tried to stab his former girlfriend to death just hours after he was spared jail for harassing her, a trial has heard.
Paul Henry, 46, was given a suspended sentence after he went to Claire Boswell's home and threatened to kill her, Lincoln Crown Court heard.
After he was freed he phoned her saying "I'm out", broke into her house and tried to kill her, jurors were told.
Mr Henry, formerly of Lea Place, Gainsborough, denies attempted murder.
He also denies an alternative charge of wounding with intent to cause Miss Boswell grievous bodily harm.
The court heard he told police: "I didn't want to kill her or owt like that.
"That day I just snapped and that was it really, end of."
Robert Underwood, prosecuting, said Miss Boswell, a mother of three, had been harassed by Mr Henry for three or four years before he stabbed her on 15 September 2011.
'Silent call'
He went to her home the previous weekend, Mr Underwood said, and climbed onto her roof before saying he intended to kill her.
Mr Henry was then arrested on 14 September for breaching a court order which had been made to prevent him harassing Miss Boswell, and appeared before magistrates the following day.
He was given an eight-week sentence but this was suspended.
After leaving court he retrieved some possessions from a police station in West Parade, Lincoln, and telephoned Miss Boswell from a call box opposite the station, Mr Underwood said.
"She answered, but the caller, this defendant, remained silent," Mr Underwood said.
"A little later this defendant rang Claire Boswell again. He was using a mobile phone.
"When she answered that call this defendant said to her 'I'm out'."
'Swore and shouted'
Jurors heard Mr Henry went to Miss Boswell's house in Gainsborough at about 17:15 BST the same day.
When interviewed by police, he admitted breaking into her house and getting a knife from her kitchen, but said he just intended to sit down and talk to her.
The prosecution claim Mr Henry ran upstairs after Miss Boswell, swearing and shouting: "I'm going to kill you."
Mr Underwood said: "He went into the bedroom where Claire Boswell was. She was pressing an alarm button that the authorities had provided for her on an earlier occasion."
He told the court Miss Boswell then dialled 999 and was heard shouting during the call: "Help! Get out!"
"Mr Henry was simply not deterred," said Mr Underwood.
"He clambered over the bed towards Claire Boswell, knife still in hand, and he thrust that knife to the right side of her chest."
Mr Underwood said it penetrated her breast tissue and injured her liver, causing her life threatening injuries.
The trial continues on Tuesday.