Priory academies make 'robust changes' after misuse of funds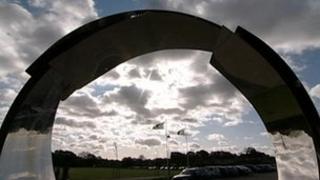 A federation of Lincolnshire schools at the centre of financial probe has made "robust" changes to its policies, education officials said.
An earlier report into the Priory Federation found its executive officer misused the schools' credit card.
Richard Gilliland resigned in March after it was revealed he used the card to buy personal goods.
The Education Funding Agency (EFA) said the trust had dealt effectively with issues identified in its action plan.
Eight new trustees were appointed to the trust's board at a meeting on Monday in a move welcomed by the EFA, which is the Department for Education's funding and compliance agency.
Daughter hired
Outgoing trust chairman Terry Coffey said: "Many of the financial and structural changes which were planned before the summer are now in place, with others due to follow between now and Christmas."
Mr Coffey said the government inquiry into the trust's management had now been completed.
New members of the board include a former Ofsted inspector, a solicitor specialising in employment law and the chief finance officer at the University of Lincoln.
An earlier Department for Education report published in March revealed Mr Gilliland had used public money to buy personal items.
The report also concluded he had converted and decorated part of a property owned by the trust with the aim of moving in with his wife and had established a private apartment at a French property owned by the federation.
Mr Gilliland's daughter was hired by the trust as a consultant and paid £55,500 for a year's work, the report said.
Lincolnshire Police said an investigation into the financial irregularities was ongoing.
Martin Lamb, the EFA's regional director of academies, described a meeting of the new board of trustees on Monday as "a transition point".
He said: "We are pleased that arrangements are progressing well towards developing the new board of governors and associated structures.
"We recognised the achievements that have been made in developing new and robust policies for the trust, and note that with the change in governance from [October] 2012, a new way of working will be established."
The 11 Priory Federation trustees drew up a plan to deal with the highlighted issues following the investigation.
One trustee, councillor Christine Talbot said the plan did not go far enough and she resigned in May.