Welfare reform will deter 'migrant' jobs: David Cameron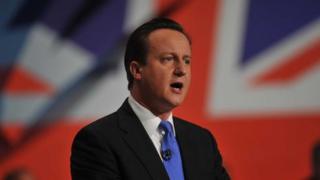 Prime Minister David Cameron said welfare reform was the "real answer" to migrant workers filling jobs in places like Lincolnshire.
Mr Cameron said it was "ridiculous" British people were "sitting at home" when migrants were coming over to work.
He spoke after a report said the Lincolnshire town of Boston needs more government help to deal with pressure on services caused by migration.
Mr Cameron said motivation and training was needed to get available jobs.
'Protests considered'
"If we have a welfare system that encourages and pays people to go out to work rather than stay at home, there will be more British people in those jobs and actually there will be fewer people coming from the rest of Europe to do those jobs," Mr Cameron said.
"So that's the real answer, but I don't want us to leave the European Union because we are a trading nation and we need those markets open."
Boston employs a large number of seasonal migrant workers on surrounding farms to harvest fruits and vegetables.
Mr Cameron said: "I'm all in favour of having a country where we welcome immigrants but it's ridiculous that we have quite so many people coming in when we have so many people sitting at home unable to work.
"I do think there's a broader question we should ask as a country when we've got people who have been unemployed for long periods of time.
"What can we do to help get them the training and the motivation to do those sorts of jobs?"
The report was published by Boston Borough Council following an inquiry into the effects of immigration.
The inquiry began after residents considered holding a protest march to highlight their concerns.
Labour councillor Paul Kenny chaired the task and finish group which produced the report.
He said in response to Mr Cameron's comments: "We need to be encouraging more people that live locally to get involved in local industries and that's one of the big important things about the report.
"If there aren't the jobs available people won't come and I think in a way he's not a million miles away from the truth there."
Mr Kenny added he would like Mr Cameron to look at other issues in the report, which include street drinking and associated anti-social behaviour.