Former TV presenter Alan Hardwick stands for PCC role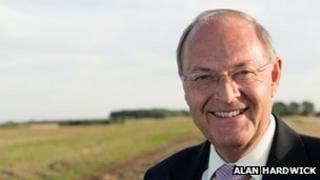 A former TV presenter is to stand as an independent for the role of police and crime commissioner in Lincolnshire.
Alan Hardwick, who presented Calendar on Yorkshire Television, said his aim was to bring "openness and transparency" to the force.
He has spent the last four years working for the Lincolnshire Police Authority, which he said has given him a good insight into the role.
Voters will go to the polls on 15 November.
Mr Hardwick said, if elected, he believed his experience would allow him to "hit the ground running".
He said his priorities were to introduce a zero tolerance policy on anti-social behaviour, focus on rural and local crime and fight to get more money for policing in Lincolnshire.
He added everyone should "have a say about policing in Lincolnshire" and it should be free from "any hint of political interference".
Commissioners will be elected in 41 areas across England and Wales and will have power over budgets, policing priorities and chief constables.
Others standing for election are Richard Davies for the Conservatives, Elliott Fountain for the English Democrats, Paul Gleeson for Labour and independent candidates Mervyn Barrett and David Bowles.