Boston council task force makes migrant recommendations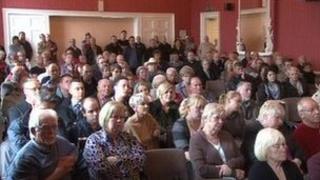 A group set up to look at the effects of population growth in a Lincolnshire town due to eastern European migrant workers has made 28 recommendations.
Boston has grown by about 9,000 people in 10 years, which the task force, led by the borough council, said was "unprecedented".
The increase has led to tensions in the town with protest marches mooted.
Among the proposals was better access for the unemployed to all local job vacancies.
In July, Boston's residents voted not to hold a march to protest against high levels of inward migration.
It followed a cancelled march in October 2011 over fears right-wing groups would hijack it.
'Must be tolerant'
Boston Borough Council task and finish group said: "Our report does not, nor cannot, contain all the answers as there is no single deliverable solution to the pressures placed on Boston society.
"Everyone has their part to play. We must be understanding, tolerant and work together to find solutions to the challenge and secure Boston's fair share of dwindling finances."
Recommendations included giving the council more power to control the number of off-licences selling alcohol, and the provision of English language courses.
The group also wants stricter control from the government for vehicles entering the country from abroad and better access for the unemployed to all local job vacancies.
The town employs a large number of seasonal workers on surrounding farms to harvest fruits and vegetables.