Lancaster Bomber Disney Dambusters tribute unveiled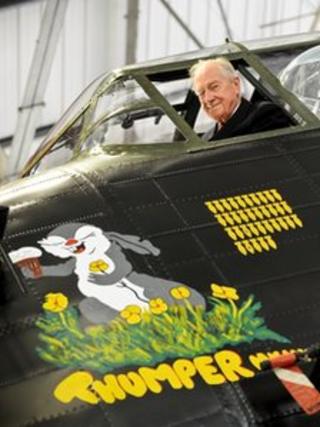 A Lancaster Bomber based at a Lincolnshire RAF base has been repainted with a Disney logo in tribute to the Dambusters squadron.
The Royal Air Force Battle of Britain Memorial Flight plane's new identity is that of an aircraft sent as a replacement after the famous raids.
Thumper from the 1942 film Bambi has been painted on the plane's nose.
Lincolnshire was previously home to 617 Squadron, who targeted dams surrounding Ruhr Valley in 1943.
The aircraft, used for public displays around the country, will now be known as Lancaster B1 DV385, Thumper Mk III.
The original Thumper Mk III carried the logo of the animated rabbit. The plane was scrapped at the end of World War II.
Many Lancaster Bombers during the war featured scenes from popular culture as nose art, including pin-ups and cartoon characters.
Veterans from 617 squadron gathered at an aircraft hanger at RAF Coningsby to see the repainted plane's unveiling.
John Bell, a bomb aimer in the original Thumper Mk III, said: "It is an honour to be here with the team and so many old and new friends.
"This aircraft depicts the one I flew 27 of my 29 operational flights on.
"Fortunately we were never hit, we lived a charmed life in that respect".
The aircraft was repainted in preparation for the 70th anniversary of the dam raids in 2013.