PCC candidate Mervyn Barrett says job should be 'free from party politics'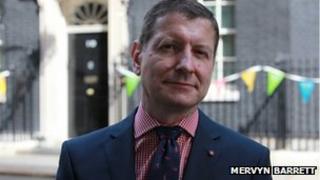 An independent candidate bidding to become Lincolnshire's first police commissioner has said his aim is to keep the role free from party politics.
Mervyn Barrett said, if elected, he hoped to make the force more "democratically accountable" to the people it serves.
He said: "I'm not a party politician and am only interested in what works for the people of Lincolnshire."
The elections for the role are held on 15 November.
Mr Barrett has spent 30 years working for a crime reduction charity and is a former editor of Safer Society, a journal for debating practical measures to create a "safer, more just and humane" society.
'Extreme candidates'
He believes that dealing with crime prevention is just as important as dealing with offenders and hopes to bring health, education and employment agencies together with police and criminal justice organisations.
He has also backed the force's "unpopular decision" to contract some services out to G4S.
Mr Barrett is one of 20 PCC candidates who have sent Home Secretary Theresa May an open letter urging her to rethink how the elections are being run.
The letter warns that the forthcoming police and crime commissioner elections could result in the lowest turnout in British history.
It also says a "rock bottom turnout" could "open the door to extreme candidates".
The government said it had been promoting the elections for two years. A government national advertising campaign, including television and radio adverts, is expected to launch in October.
The successful candidate will have powers to hire and fire chief constables, set police force budgets and commission some criminal justice services.
Others standing for election in November are Richard Davies for the Conservatives; Paul Gleeson for Labour; Elliott Fountain for the English Democrats; and Independent candidate David Bowles.