Ingoldmells sewage scheme fails to prevent resort smell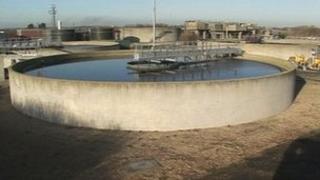 An £800,000 scheme to stop people in a Lincolnshire coastal resort smelling a nearby sewage treatment works has failed, according to local residents.
Anglian Water says it has spent the past year improving facilities at its Bolton's Lane works in Ingoldmells, near Skegness.
Work has included installing chemical dosing units to prevent odours.
But residents say the work has failed to stop the smell, which is affecting local businesses.
Maurice Darnell, chairman of the Ingoldmells and Addlethorpe forum, said: "We are angry because Anglian Water has promised they would get rid of the smell.
Leaving 'Ingoldsmells'
"It's not fair on holidaymakers and it's not fair on businesses - they are losing money and people are going home.
"People are taking their caravans away, purely to get away from the smell."
He added the resort had now become known as "Ingoldsmells".
Anthony Innes from Anglian Water said: "We do know there has been an ongoing problem of odours coming from the treatment works and we are sorry.
"We are as disappointed as residents that these odours have returned."
He added: "The sewage is turning septic because of the low level of the land and the time it takes to get to the treatment works.
"But largely speaking we did see a marked improvement."
Anglian Water said it was looking for a permanent solution for the plant which serves about 63,000 people, a figure which can treble during the holiday season.