Isaac Newton plaque unveiled in Grantham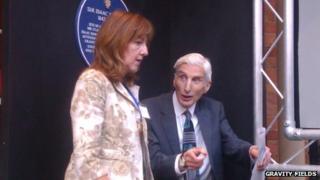 A plaque has been unveiled in Grantham to mark where Sir Isaac Newton lodged while at school.
It has been unveiled as part of an eight-day festival to celebrate the life and achievements of the scientist.
Called Gravity Fields, the festival was opened on Friday by Bang Goes The Theory TV presenter Dallas Campbell.
The plaque was unveiled inside the George Centre on Saturday and is due to be moved outside on High Street, closer to where Sir Isaac lodged.
The Astronomer Royal, Professor Martin Rees, addressed the crowd inside the George Centre.
"Newton was plainly the greatest scientific intellect of the second millennium, really off the scale," he said.
"He's a household name, he has appeared on banknotes and so forth, but his public profile still needs a boost."
Prof Rees, who is also Master of Trinity College, Cambridge, said: "We at Trinity College regard him as our greatest alumnus.
'Newton's launchpad'
"It's good that Newton's hometown is working to boost Newton's prestige.
"The schooling that Newton received here was, as it were, his launchpad. Without it we would never have heard of him."
He said Newton's curriculum in Grantham would have been "very austere" and "rigorous" and added: "I guess [Education Secretary] Mr [Michael] Gove would have approved of it."
The plaque will be put on the exterior wall of Ask restaurant, on the site where Sir Isaac lodged with an apothecary while he attended the King's School in Grantham.
Sir Isaac, a physicist and mathematician, is widely regarded as being one of the greatest scientists in history.
He was born in either December 1642 or January 1643 in Woolsthorpe-by-Colsterworth, a hamlet near Grantham, and died in 1727.
He claimed to have been inspired to investigate the theory of gravitation by an apple falling from a tree at his childhood home of Woolsthorpe Manor.