Lincolnshire Labour police commissioner candidate named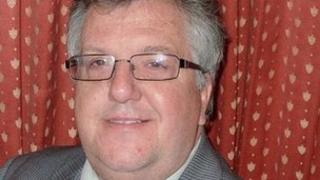 Boston Borough Councillor Paul Gleeson has admitted he is "shocked" to be Labour's new candidate for Lincolnshire Police and Crime Commissioner (PCC).
The previous candidate, Phil Dilks, stood down after he was advised a minor offence committed more then 40 years ago made him ineligible.
Mr Gleeson said he felt the main role of the new post was to open "lines of communication" from public to police.
PCCs will replace police authorities in 41 areas after elections in November.
Prison sentence
Mr Gleeson lost out to Mr Dilks to be Labour's PCC candidate earlier this year and said he was shocked and surprised by what had happened.
But he added he intended to show he was as capable for the job.
"I think the most important role is going to be as conduit for the communities in Lincolnshire to get their voices heard by police.
"People need to be heard and their concerns about drunkenness, disorderly conduct, the petty vandalism, the sort of thing that impacts on their lives day to day, need addressing."
Mr Dilks was the third candidate in the East Midlands region to stand down over a past criminal offence.
Labour's Alan Charles stood down in Derbyshire after being told a conditional discharge, given 47 years ago when he was 14, barred him from standing for office.
He was reinstated after legal experts decided the offence would not disqualify Mr Charles from the role after all.
Conservative candidate Mike Quigley pulled out of the Nottinghamshire race after a "minor offence" 44 years ago.
Home Office rules say anyone convicted of an offence which could attract a prison sentence cannot be a candidate.
The successful candidate will have powers to hire and fire chief constables, set police force budgets and commission some criminal justice services.
Others standing for election in November are Richard Davies for the Conservatives, Elliott Fountain for the English Democrats and Independent candidates Mervyn Barrett and David Bowles.