Tonnes of scrap metal destroyed in Bourne fire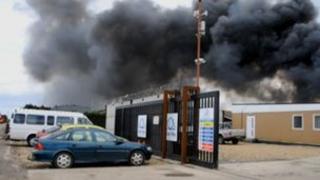 Hundreds of tonnes of metal and plastic recycling have been destroyed in a fire at a scrap yard in Lincolnshire.
The fire at BW Riddle recycling yard at Bourne, which started on Friday afternoon, ripped through scrap piles.
Fire crews called to the yard on South Fen Road worked to protect nearby buildings and tanks containing engine and hydraulic oil.
Eyewitnesses said smoke could be seen for miles around, including at Crowland, Stamford and Gosberton.
Bourne resident Darren Game, said: "Lots of dense, black, billowing smoke has been coming up in spurts and a lot of engines have been arriving."
A fire service spokesman said no-one had been injured in the blaze.
The cause of the fire is under investigation.