Police and crime commissioner elections: Lincolnshire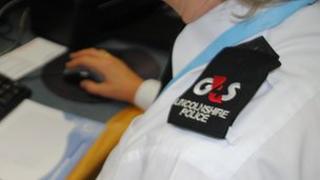 On 15 November 37 police and crime commissioners will be elected in England along with four in Wales.
The PCCs, as they will be known, will be tasked with scrutinising their force and holding it to account. They will also be able to hire and dismiss the chief constable and set the force's budget.
The commissioners will be paid and are supposed to empower local people into having a say on how crime is tackled in their area.
Nominations for candidates in Lincolnshire have now officially closed.
BBC News has taken a look at each of the police forces ahead of the elections.
Lincolnshire Police
Lincolnshire Police covers an area of more than 2,280 square miles, serving a population of about 646,000 people who live and work in the county.
The area ranges from towns and rural villages to the city of Lincoln.
The force said its local priorities were to improve road safety, safety of children and young people, community confidence and satisfaction, community safety and focus on what causes most harm and efficiency and productivity through the best use of resources.
The force splits its area into four neighbourhood policing divisions, headed up by Supt Paula Wood. These are Lincoln and West Lindsey, Boston and South Holland, North and South Kesteven and East Lindsey.
Lincolnshire Police has just under 1,150 police officers and about 430 police staff.
The force is led by a team of chief officers headed by the Chief Constable Neil Rhodes.
Funding
In 2010 it was confirmed by the government that Lincolnshire Police would have to make savings of £20m from its budget by 2015.
Lincolnshire Police Authority said: "For the financial year 2012-13, the authority set a budget against the background of major organisational change and the continuation of reductions in public sector spending.
"With effect from the 1 April 2012, the authority entered into a strategic partnership with the private sector company G4S for the provision of mid and back office services.
"This was the largest commercial contract in UK Policing with a contract being signed for an initial 10-year period."
The £200m G4S contract will see half the force's civilian staff transferred to the private company, which will also build and run a police station.
The budget for policing Lincolnshire for 2012-13 is £109.8m, a reduction of £3.6m on last year's budget.
Crime and performance
In 2011-12, according to figures from the Office of National Statistics, Lincolnshire Police recorded 44,164 crimes in the county.
According to HM Inspectorate of Constabulary, Lincolnshire is one of three police forces which may not be able to provide a "sufficiently efficient or effective service" in the future.
Its report on the impact of 20% funding cuts to police in England and Wales by 2015 said the Met Police, Devon and Cornwall and Lincolnshire were at risk.