Lost seal to remain at Skegness seal sanctuary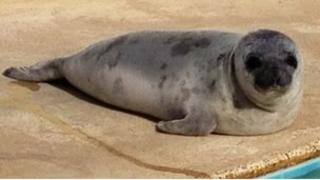 An Icelandic seal which was saved when it swam to Lincolnshire after getting lost is to stay at a seal sanctuary in Skegness.
In July, Skegness Natureland tried to release the hooded seal, named Eve, back into Icelandic waters but it was refused by the authorities.
It was feared that Eve might carry diseases back with her.
Rescuers said because Eve has spent 11 months in captivity it was in her best interests to remain at the centre.
Natureland's Richard Yeadon said: "She seems very chilled out in the resident seal pool, enjoying five meals of the best quality herrings a day.
"I'm sure we have made the right decision for her."
'Drastically underweight'
When the Icelandic authorities refused permission for Eve to return home, the seal centre consulted vets and animal welfare groups about to what to do next.
Mr Yeadon said: "We heard about one hooded seal that was released off the north of Scotland, which was one idea we had for Eve.
"A few months later it turned up in Spain drastically underweight."
Eve, thought to have been born somewhere between Iceland and Canada, was originally rescued by a seal sanctuary at Friedrichskoog, on the coast of Germany, last August.
Staff there fattened her up, fitted her with a tracking device and released her in the hope she would head back to Iceland.
The device showed Eve swam to Scotland and the Orkney Islands but then changed direction and headed for the east coast of England.
She was rescued at Chapel St Leonards by Natureland staff.