Two protests in two days at Morton Hall Immigration Centre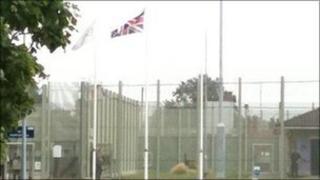 The UK Border Agency is trying to establish how two detainees scaled the rooftops of an immigration removal centre in two separate protests.
The first climbed a building at Morton Hall, in Swinderby, Lincolnshire, on Monday evening and the second climbed up at about 11:30 BST on Tuesday.
A BBC reporter spoke to a further detainee who said many were upset with the length of time they had been held.
The UK Border Agency said it aimed to keep periods of detention to a minimum.
In September last year, 18 Afghani asylum seekers went on hunger strike at Morton Hall because they did not want to be sent back to Afghanistan.
A UK Border Agency (UKBA) spokesperson said: "If individuals refuse to comply with the law and leave the UK, we will enforce their return.
"We aim to keep all periods of detention to a minimum but where an individual refuses to co-operate with our attempts to document and remove them they may delay their own case.
"We are working with the Prison Service, which manages the centre on behalf of the UK Border Agency, to establish how the protesters got on to the roof."
During the most recent protest, a BBC reporter spoke to a detainee over the phone who said the protester had concerns about how long they had been held there.
The detainee went on to say many had been held for more than two years.
The second protester, who is Malaysian, came down at about 17:00 BST on Tuesday.
The UKBA said both protests were in relation to the detainees' immigration cases but they could not give specific details.
Don Flynn, director of the Migrants' Rights Network, said people could become frustrated when they have been detained for months and, in some cases, years.
He said: "When the immigration removal centres were set up, the intention was people would only be detained during the last few days, or maybe a week, of their stay in the country."
But he said many are kept for long periods while their applications and paperwork are being considered by the UKBA, and where courts have ordered reviews of decisions.