Lincolnshire Conservatives choose 'no-nonsense' police commissioner candidate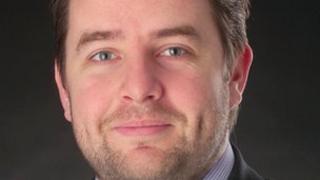 A "no-nonsense approach" is the key to reducing crime in Lincolnshire, according to the Conservative candidate for the county's police commissioner.
Lincolnshire County Councillor Richard Davies beat 11 people to win the Conservative nomination.
"Policing deserves to be better in Lincolnshire than it is," he said.
South Kesteven District Councillor Phil Dilks is the Labour candidate and David Bowles, former county council chief executive, is an independent candidate.
'Politics' free
Mr Davies, who represents Grantham North West on the county council and is a member of the Lincolnshire Police Authority, said: "I believe my no-nonsense approach will help prevent crime, reduce fear or lawlessness and offer the public genuine reassurance about the way their communities are policed."
He said "by and large" there had been no major problems with the transfer of 600 civilian jobs in the Lincolnshire Police to the private firm G4S.
Mr Bowles, who is also former chairman of the United Lincolnshire Hospitals Trust, said his aim was to keep "politics out of policing".
He said "policing has been free of political control for 150 years", something he believes should continue.
Commissioners will be elected in 41 areas across England and Wales and will have power over budgets, policing priorities and chief constables.
Labour candidate Mr Dilks, who represents Deeping St James on the district council, called the elections "a daft idea", but said he was not prepared to stand aside and leave it to a Tory commissioner, "who would simply be a cheerleader for government cuts".
Voters will go to the polls on 15 November.