Ambulance delay due to meal break sparks 'common sense' call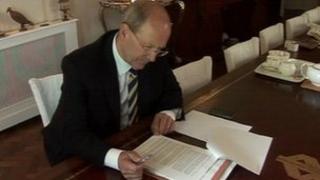 East Midlands Ambulance Service (EMAS) needs to restore some "common sense" after a meal break delayed an emergency callout, a coroner said.
Harold Tinsley, 78, of Grantham, who died after collapsing at home last September, had to wait because the closest ambulance crew was on a break.
Lincolnshire coroner Stuart Fisher said the current policy was not flexible enough to deal with emergencies.
EMAS said it was considering the criticism and looking at rest periods.
Mr Fisher said an ambulance team had been delayed because of a break called for under national guidelines.
'Totally unacceptable'
An inquest into Mr Tinsley's death was held on 10 July and the coroner gave an open verdict, but the exact cause of death was not revealed.
"I have written to the chief executive of EMAS to ask him to reconsider the current policy they have with regard to meal breaks to see if some common sense can be restored," the coroner said.
"There were ambulances quite close by that could have responded more quickly than the one that did turn up, but the difficulty was that those ambulances were in a meal-window break… and they weren't able to utilise those vehicles.
"This is totally unacceptable and something has to be done about it."
Mr Tinsley's neighbours dialled 999, but the single paramedic who arrived after 47 minutes was unable to deal with the incident alone and a second ambulance with two paramedics was called.
He was taken to Lincoln County Hospital but died four days later.
Undisturbed break
Mr Fisher said he could not determine if the delay had contributed to Mr Tinsley's death.
EMAS Chief Executive Phil Milligan said: "We are looking at how they can ensure staff have sufficient rest so they don't become a potential risk to the public, though either driving or treating patients whilst tired.
"Our practice on meal breaks comply... with the national NHS Agenda for Change employee terms and conditions which require staff to be given a 30-minute, undisturbed break.
"It is essential that our crews do get a rest... because working non-stop would create very tired crews and significantly increase the risk of them making a mistake later in the shift."
National guidelines on emergency response times call for ambulances to respond to life-threatening emergencies within eight minutes.