Murder accused Lincolnshire man in St Kitts prison complaint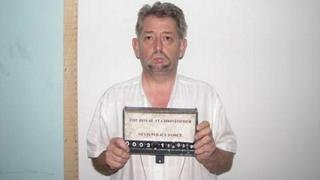 A Lincolnshire businessman accused of stabbing an employee to death in the Caribbean has complained about the prison conditions he is being held in.
Hotel owner Kevin Horstwood, 53, denies murdering US citizen Matthew Murphy in St Kitts in December.
Mr Horstwood's lawyer said the island's jail falls "well below recognised standards" for treatment of prisoners.
But the St Kitts authorities accused Mr Horstwood of seeking special treatment and being "ungrateful".
Mr Murphy worked as a handyman at the Rawlins Plantation Inn which Mr Horstwood ran for seven years.
The Spilsby businessman is waiting for a date to be set for his trial. A hearing is scheduled for later this month but the main case may not take place until next year.
'Signs of scurvy'
In a letter to a friend he said: "Ordinarily I'm locked in a cell 18ft by 26ft with 40 other men for 23 hours per day.
"Although I put a brave face on things, I am very concerned about my health. One of the prisoners in my cell was taken out a few days ago with TB.
"I have signs of scurvy and everything aches."
But Superintendent of Prisons, Franklin Dorset, said: "I've treated Horstwood the same way I treat any other prisoner and I don't think he's entitled to any special privilege.
"I give him all the support, all the help, and he's still not satisfied. I think he's very ungrateful.
"All the prisons in the Caribbean are overcrowded. This is not the only prison that's overcrowded.
"I'm fed up and tired of Horstwood. He believes that he deserves special treatment because he was born in England."
Mr Horstwood's lawyer, Saul Lehrfreund MBE, said: "The conditions in the prison in St Kitts, in the main prison where Kevin is being held, fall well below recognised standards for the treatment of prisoners.
"The prison was built in the mid-19th century for maybe less than a hundred prisoners and today there are over 400 prisoners being held in that prison, which is quite unbelievable when you see how small it is."
If Mr Horstwood is convicted, the island could impose the death penalty.
However despite a high murder rate with 34 killings last year, St Kitts last hanged a prisoner in 2008.
A spokesperson for the Foreign and Commonwealth Office said the British government is providing consular assistance.