Views on bridges at Lincoln level crossings extended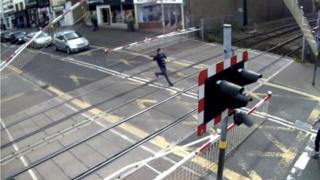 A consultation on plans to build two footbridges across level crossings in Lincoln city centre has been extended due to interest from the public.
Network Rail said 600 people attended events earlier in June about the High Street and Brayford Wharf crossings.
The firm said it wanted to stop people trying to beat the level crossing barriers with pedestrian access.
The public consultation is now due to end in August before a planning application is submitted in September.
'Reckless and dangerous'
Phil Verster, route managing director for Network Rail, they received "strong support" for the bridges from the majority of the 600 people who shared their views.
He said it was important that people had a chance to help refine the designs.
"We intend to have detailed designs to share with the people of Lincoln next month, allowing time for further comments before we submit a planning application," he said.
At the moment barriers come down several times an hour at the crossings causing delays for traffic and pedestrians.
The crossings are in busy locations and Mr Verster believes people become frustrated by having to wait.
"We regularly see people rushing across the level crossings once the warnings have started," he said.
"We even have instances of people lifting the barriers. Clearly this behaviour is highly reckless and dangerous.
"Much level crossing misuse results from people not thinking about the risks but we believe frustration caused by the location of the crossings is also a factor in Lincoln."
Details of further public events are yet to be announced.