Village votes no to G4S police station plan in Lincolnshire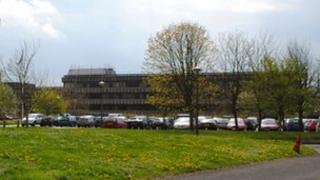 A parish council has voted to oppose proposals for security firm G4S to build a police station near Lincoln.
The custody and deployment base would be built as part of a ten-year contract between Lincolnshire Police and G4S.
It would be located next to the village of Nettleham, and the idea was debated at an extraordinary meeting of Nettleham Parish Council.
Police reassured villagers that most detainees would be transported to the bus or rail station after release.
But councillors and residents had further concerns, including increased traffic through and around Nettleham.
Councillor John Evans said: "I feel there is a lot of work the police authority will have to put in to get this through."
The base would be built on land at Lincolnshire Police headquarters, next to the village.
The planning application is due to be submitted before a police and crime commissioner (PCC) is elected in November, replacing Lincolnshire Police Authority.
'Very different times'
The parish council voted to request that further action is deferred until after then.
West Lindsey District Council will ultimately decide whether to grant or refuse planning permission.
Chief Constable Neil Rhodes said: "This is not a done deal, but further development on our headquarters site is a strong option."
He confirmed that Lincoln's main police station, in West Parade, would be sold as part of the proposals.
"We've got a tired old police station at Lincoln which needs replacement and we've also had almost 20% of our budget - in one of the leanest police forces in the country - slashed recently.
"Quite frankly we have to build a new police station. It has to be built somewhere."
The police authority previously described the G4S police station as a "custody suite".
However, Mr Rhodes said it would be "a new police station to serve the Lincoln and West Lindsey area."
Councillors and villagers said that before the police headquarters were built, they were promised it wouldn't be used for operational policing.
But Mr Rhodes said: "We are living in very, very different times."