Bid to protect status of Lincolnshire sausage fails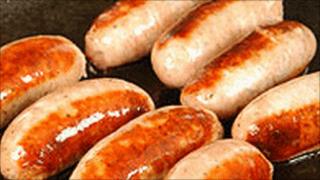 An application to give the Lincolnshire sausage special protection has been turned down by the government.
The Department for Environment, Food and Rural Affairs (Defra) said it took the decision because there were already "too many variations" across the UK.
The department found there was no enduring link between the product and the county, stating that they had been made elsewhere for more than 20 years.
Campaigners said they were disappointed by the news.
The Lincolnshire Sausage Association (LSA) has been campaigning for Protected Geographical Indication (PGI) status for more than seven years.
'Damaged businesses'
The decision means the Lincolnshire Sausage will not be submitted to the EU Protected Food Name Scheme as a PGI.
A positive decision would have meant that only sausages made in the county of Lincolnshire could use the name, and they would need to be made of 70% coarse ground or minced pork, packed in natural casings and flavoured with sage.
Food and Farming Minister Jim Paice said: "British food is outstanding and we're working hard to protect the local heritage of certain foods through PGI status.
"But with so many variations on the recipe, and 95% of sausages sold under the Lincolnshire Sausage label being made outside the county, the application as it stood could have seriously damaged businesses and jobs," he said.
"We remain open to looking at other options which would allow producers in Lincolnshire to highlight the traditional and local nature of their sausages, without potentially damaging the overwhelming majority of manufacturers."
The UK now has 48 foods protected from imitations by the EU Protected Food Name Scheme, including Cornish clotted cream and Melton Mowbray pork pies.