Improvements to Ingoldmell 'smelly' sewage works completed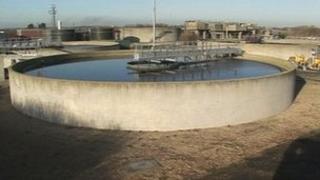 An £800,000 project to stop residents in a Lincolnshire coastal village smelling a nearby sewage treatment works has been completed.
Anglian Water has spent the last year improving facilities at its Bolton's Lane works in Ingoldmells, near Skegness.
A spokesman from the company said residents would soon be able to notice an improvement to the previous odours.
It is thought the smell was caused by sewage not passing through fast enough.
The spokesman added: "We are confident as we have been tackling the root cause of the issue which means taking the smell out of the long networks as they come into Ingoldmells."
Ingoldmells guest house owner and parish councillor Jean Ellis said she would be monitoring odour levels.
"It's costing us money," she said.
"We're trying to bring Ingoldmells up to date and bring people to visit us but when the smell comes, they leave and they don't come back."
The plant serves about 63,000 people, a figure which can treble during the holiday season.
During the summer 500 litres of sewage is processed every second.