Lincolnshire safety group uses bespoke signs to target bikers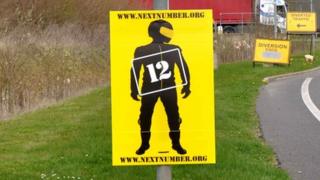 A road safety group is using bespoke signs displaying crash statistics aimed at reducing accidents among motorcyclists.
Lincolnshire's Road Safety Partnership has installed the signs to warn bikers of the potential dangers at crash "hotspots".
The scheme is part of Operation Octane, a joint campaign with police to target bikers who try to "show off".
Last year 10 motorcyclists were killed on the county's roads.
Police said bikers were significantly more likely to be injured than any other road user.
Partnership spokesman John Siddle said: "Everybody says it's not going to happen to them - what we are saying is there is a strong possibility - it certainly happened to 10 people last year and those 10 people became the next numbers."
The campaign is also backing a smartphone app where bikers can view the route they are planning to ride and get tips and advice.