Protest at Highgate Farm against breeding rabbits for research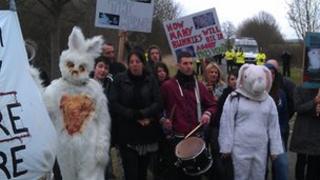 Animal rights campaigners have gathered outside a Lincolnshire farm which breeds rabbits for research.
Highgate Farm, at Normanby-by-Spital, near Market Rasen, has previously been attacked by arsonists.
The campaigners have accused the farm of supplying rabbits for the testing of an artificial sweetener, which they say is unnecessary.
But Geoff Douglas from the farm said his rabbits helped produce medicines and vaccines to treat other animals.
When asked if he had supplied rabbits for the testing of artificial sweeteners, Mr Douglas said: "I don't know anything about it to tell you the truth.
"I don't know what the rabbits were used for.
"The testing of artificial sweeteners is a legal requirement.
"They are a part of life."
The campaigners have accused Highgate Farm of supplying rabbits to Huntingdon Life Sciences, a research organisation which has been repeatedly targeted by animal rights activists.
Vaccines for pets
Mr Douglas said he had provided animals to Huntingdon Life Sciences in the past but not "for as long as I can remember".
He said he sells between 15 to 20 rabbits a week on average and "nearly all" go to companies which produce medicines and vaccines for pets.
He added that the rest go to developing and testing vaccines and treatments for flu, benefiting the NHS.
Lisa Symonds, one of the campaigners at the protest, told the BBC: "Our argument is that these tests are not doing humans any favours at all and these animals are suffering absolutely unbelievable experiments that anyone who had any compassion would find distressing."
She said that none of those taking part in the peaceful protest were responsible for arson attacks at Highgate Farm.
The protest began at 12:00 BST, but Lincolnshire Police made plans to close Highgate Lane for safety reasons from 08:00 BST to 17:00 BST.
They had expected hundreds of campaigners but Ms Symonds said between 90 and 100 had taken part.