Red Arrows learn to fly as seven after 'recent tragedies'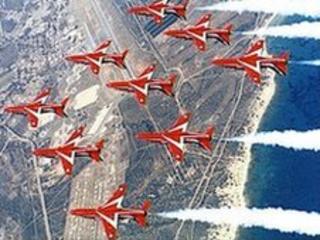 The Red Arrows will learn to fly in an unusual seven formation when the team leaves Lincolnshire for its annual training in Cyprus later.
The team usually flies with nine aircraft but its first female pilot moved to a ground-based role earlier this month.
Her move followed the death of two Red Arrows pilots last year.
The Red Arrows, normally based at RAF Scampton in Lincolnshire, train in Cyprus for a number of weeks each year.
'Unique' to see
Richard Baker, a photographer who spent nine months with the team during their 40th anniversary season in 2004, said the new displays would be interesting for spectators.
"I don't think it would look too different but I think it would be quite a unique thing to see in the sky," he said.
"I don't know if there has been any occasion when seven aircraft have been flying."
Flt Lt Sean Cunningham, 35, was killed on 8 November when he was ejected from his plane while on the ground at RAF Scampton.
His death came less than three months after Flt Lt Jon Egging, 33, was killed at the end an air show in Dorset.
Mr Baker said: "There probably would have been great pressures within the team at the time of those two accidents.
"I can't begin to understand what it was like to be in the team and have to carry on.
"They are very professional. Their pedigree of being in the RAF means they are all very well trained."
'Recent tragedies'
Flt Lt Kirsty Stewart, formerly Moore, 33, completed two seasons with the team.
After her departure was announced, Sqn Ldr Jim Turner said: "The last few months have been the hardest that the team have endured for a long time.
"In true RAF spirit and ethos we are determined to put the recent tragedies behind us and move forward to promote our reputation as one of the finest, most professional and safest military display teams in the world."
The team goes to Cyprus each spring to make use of the clean airspace and longer days.
The Ministry of Defence said seven aircraft presents "the most visually balanced and dynamic formation" for aerobatic displays given the departure of Flt Lt Stewart.
But Sqn Ldr Turner said that signature events such as the Queen's Diamond Jubilee would be supported by Red Arrows flypasts using nine aircraft.