Lost seal's journey back to the Arctic set to begin shortly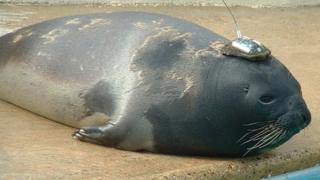 A seal which ended up in Lincolnshire after getting lost in the North Sea could be taken back to its natural territory in "the next few weeks".
Eve, a hooded seal, is being cared for at Natureland sanctuary in Skegness after being found on a beach at Chapel St Leonards in December.
She had already been rescued and then released by a sanctuary in Friedrichskoog, Germany, in October.
Natureland staff have been trying to raise funds to fly her back to Iceland.
Sanctuary director Duncan Yeadon said Eve had been very underweight when she first arrived but had recovered well.
A tracking device fitted in Germany showed that after being released, the pup crossed the North Sea but then headed south as she approached north Scotland.
'Captured imagination'
Since arriving in Skegness, staff have been feeding her up to give her the best chance of survival after her forthcoming release.
He said: "She's steadily gaining weight but we want to get her as fat as we can really.
"We need to get her as far north as possible to give her a good start and hopefully set her in the right direction."
The sanctuary has already received several large donations and a fund-raising disco is being held in the town on Saturday to help raise thousands of pounds for the flight to Iceland.
Mr Yeadon said: "It's captured the imagination of the local people and we've had a lot of help and support to raise funds for her release.
"There's been a lot of interest in her and hopefully we can get her home."
He said the tracking device did not seem to be causing Eve any discomfort and would come off when she moulted in the next couple of months.