Boston's Pilgrim Hospital makes 'significant progress'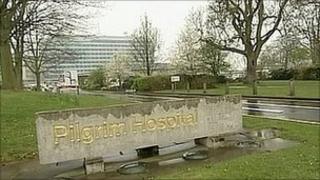 The Care Quality Commission (CQC) has said a Lincolnshire hospital has made significant progress in the past year to address its concerns.
Boston's Pilgrim Hospital was strongly criticised in two reports last year. The CQC said it must improve patients' experience and staff training.
The trust that runs Lincolnshire's hospitals said it was pleased with the report.
The CQC said it would continue to monitor progress at the Pilgrim.
Vicky Wells, the CQC compliance manager for Lincolnshire, said: "We will be carrying out more inspections to check these improvements have been sustained and the minor concerns we've got become areas of compliance."
The report said improvements were made around nutrition and hydration, new care records and increased training for staff in completion of care records.
Jennie Negus, Deputy Director of Patient Services at United Lincolnshire Hospitals NHS Trust, said: "We are extremely pleased by the findings of the latest CQC report.
"We recognise there is still more to be done and we will continue to work hard to address all the issues raised by the CQC to ensure the care we deliver is of a consistently high standard across all our hospitals."