Lincolnshire's Heckington Windmill brought back into use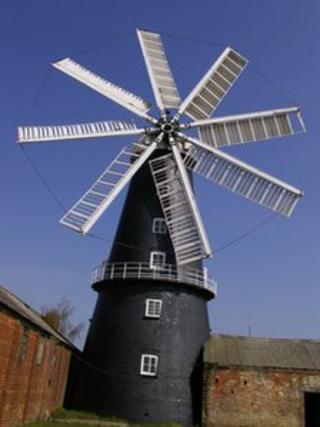 England's only surviving eight-sailed windmill will soon be able to grind flour again after its sails are replaced.
The sails of Heckington Windmill are rotten and could break off if the mill were to operate.
It has not ground flour since July 2010 but new sails are being made and are expected to be installed after Easter.
The Friends of Heckington Windmill are also bidding for a £780,000 grant to create a visitor centre.
Safety risk
Mill manager Jim Bailey, who is also a member of the Friends of Heckington Windmill, said: "If we were to turn the sails under power it's very likely that one would break off, and they are all joined together so if one comes off then several could come off.
"You don't want to do that, particularly when you are open to the public."
When the mill was built in 1830 it had five sails. It was built for a man called Michael Hare, who wanted to become a miller but died before the mill was completed. His young widow was propositioned by a miller.
"She was 29 and he was 65 when they married in 1835," said Mr Bailey. "He knocked on the door and introduced himself. His chat-up line was something like, 'I understand you've got a windmill and you are a widow. Well, I'm a miller and I'm single. How about it?'"
When the miller died the mill passed to his sons from his first marriage, despite his widow still being alive.
It stayed in the miller's family until 1890 when it was severely damaged by a large storm.
A man called John Pocklington bought the remains of an eight-sailed windmill in Boston and created a hybrid mill in Heckington. Mr Pocklington owned and ran the windmill until he died in 1941.
Kesteven County Council bought the mill in 1953 and made it Grade I listed. It is now owned by Lincolnshire County Council and since 1981 has been run by the Friends of Heckington Windmill.