London 2012: RAF Waddington holds air security exercise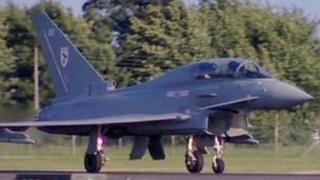 An air security exercise has taken place in Lincolnshire ahead of the 2012 Olympics in London this summer.
Royal Air Force and Royal Navy pilots practised working alongside each other in preparation for their security role at the Games.
Defence Secretary Philip Hammond attended the training event at RAF Waddington.
The exercise included tracking a suspicious aircraft and dealing with the threat.
Helicopter snipers
Aircraft and ground units which will be part of the air defences for the Games include RAF Typhoons, as well as the Royal Navy's Sea King surveillance aircraft, Puma and Lynx helicopters, and air defence missile systems.
Codenamed Exercise Taurus Mountain 2, the operation also saw the air control centre at RAF Scampton near Lincoln tracking air activity.
During the Olympics, the Typhoon fighter jets - normally based at RAF Coningsby in Lincolnshire - will move to RAF Northolt in London.
Other measures will include placing snipers in helicopters, as well as having Rapier air defence missiles on high alert status.
More than 13,000 servicemen and women will be involved in addition to civilian security staff.
Sqn Ldr Gordy Lovett said: "The Typhoon is a world-class interceptor aircraft and we're very able and capable of doing the alert mission - identifying and intercepting aircraft that are potentially a threat.
"That could be from a lost general aviation aircraft up to a high-potential threat.
"We're able to go and identify those and then carry out extra measures as required to ensure the safety and security of the airspace is maintained."