Boston Barrier to 'boost tourism and regeneration'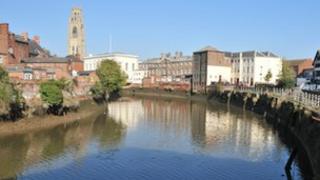 A proposed flood barrier will encourage tourism and regeneration, a report claims.
The Boston Barrier will reduce the risk of tidal flooding in Boston from 2% in any one year to 0.3%.
It will also make the River Haven suitable for leisure boaters.
An update on the plans is being given to Lincolnshire County Council later ahead of a decision next week which could see the authority commit £11m to the project.
Peter Fender, economic infrastructure development manager for the council, said: "It is a flood defence barrier for Boston and it is to increase the protection to Boston residencies and businesses.
"It will also bring benefits to the town in terms of boat movement and an attractive town centre.
"At the moment, when the tide is out it [the river] is mud. When there is no water in it you can't travel. The barrier will hold back the water during daylight hours."
Economic boost
The report, written by Mr Fender, says that the Boston Barrier project "is likely to yield a benefit to the community of at least £230m, and potentially up to £500m".
The report is being considered by the county council's economic scrutiny committee later.
The council's executive committee will decide whether to fund the scheme next week.
In October 2011, the Environment Agency announced the barrier will be located downstream of Black Sluice Lock.
It is part of the Fens Waterways Link, which will connect the cities of Lincoln, Ely and Peterborough by water.
The Environment Agency estimates the flood defence will protect about 10,000 homes and 900 businesses in the area.