Woman and grandson Holywell Lake inquest opens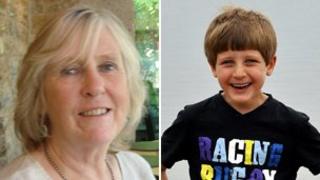 An inquest has been opened into the deaths of a woman and her six-year-old grandson in Lincolnshire.
The bodies of Laurence Mullany Mills, from Ketton, Rutland, and Dawn Mullany, 71, from Castle Bytham, were found in Holywell Lake, near Stamford.
The coroner was told the family raised the alarm after they were unable to contact Mrs Mullany.
The inquest, held at Stamford Town Hall, was adjourned until a later date.
Laurence had been staying overnight with his grandmother, the inquest heard.
Police found Mrs Mullany's car near the lake in Holywell village.
A short time later their bodies were discovered.
A post-mortem examination confirmed they had both drowned.
Police said they believed it had been a tragic accident.
'Infectious smile'
The pair's family said: "Dawn was adored by all. She was a great friend, a loving mother and above all, a doting and devoted grandmother.
"Her passion and affection for life will never be forgotten.
"Laurence, or Laurie, was a gentle and caring brother to Nancy.
"He was a son with a wonderfully infectious smile who could warm the coldest place or light the darkest room.
"Their death leaves a hole in our lives that can never be filled."
Amanda Rogers, head teacher of Ketton Church of England Primary School, said: "Laurie was such a special little boy. He was chatty and sociable and he had impeccable manners.
"He loved everything about school and he would run to get here every morning."