Grandmother and boy found dead in Holywell Lake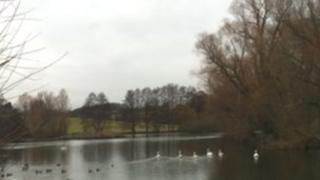 The bodies of a 71-year-old woman and her six-year-old grandson have been found in a Lincolnshire lake.
Lincolnshire Police said the woman's body was found in Holywell Lake on Thursday night and the boy was found in the water on Friday morning.
Officers said a search had been carried out after the mother of the boy, who had stayed the previous night at his grandmother's, contacted police.
Police said they believed it had been a "tragic accident".
Officers searching for the grandmother and boy, who was from Leicestershire, found a car near to the water at the parkland in the village of Holywell, near Castle Bytham, at 22:45 GMT on Thursday.
Soon afterwards the grandmother's body was pulled from the lake and she was confirmed dead at the scene.
The boy's body was recovered from the water by police divers just before 04:00 GMT.
Police said the boy's mother had become concerned for the welfare of the child and her mother after she had been unable to contact them. The boy had been due to return home on Thursday evening.
The boy's mother called police at about 21:20 GMT.
An RAF search and rescue helicopter was called in to help officers with the search.
Det Ch Insp Dave Wood said: "We don't believe this is suspicious. We believe this is a tragic accident.
"As you can imagine, the family are extremely upset at the loss of a mother and a son. The people of the area are also shocked by this tragic accident.
'Remote location'
"Officers are with the family providing them with support and we are working with the coroner to establish why this tragic accident happened.
"It is quite a remote location and not that many people would have visited there yesterday. We are asking anyone who saw the lady or the boy at the lake or near the car to contact us."
Hilary Barnsdale, 59, a friend of the 71-year-old woman, described her as an "outgoing, bubbly and independent woman."
She said: "She was brilliant person who would do anything for anyone. The news came as a shock to me and her friends in the village."
Mrs Barnsdale said she had seen the woman's black car parked at the pond as she went past on the bus about 16:00 GMT on Thursday.
She said: "I thought it was a little strange, but I guess they were just there feeding the ducks before she drove him home, perhaps.
"I couldn't believe it, I'd only seen her on Monday and she was her usual happy self.
"Her grandson wasn't there then, but she saw her family regularly. She thought the world of him."
The two victims are not expected to be formally identified until Monday.