Bullet found lodged in mouth of Sutton St James siege officer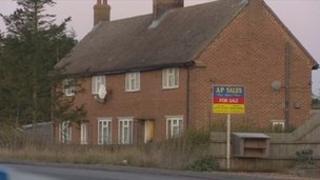 Lincolnshire Police says one of its officers is lucky to be alive after a bullet was discovered lodged between his cheek and teeth.
Barry Horspool, 61, started an armed siege by shooting the unarmed officer in Sutton St James on 31 January.
Police later found Mr Horspool dead inside his house in Chapelgate.
It is thought the bullet initially went through a car window, reducing some of the force, before it was stopped by the officer's teeth.
The injured policeman was one of two unarmed officers who were called to Chapelgate at about 11:00 GMT on 31 January after reports of a man with a firearm.
A shot was fired at their vehicle.
A police spokesperson said it was initially unclear what had caused the officer's injuries, and they originally thought his face could have been punctured by fragments of glass.
Tests on ammunition
The ammunition was only discovered after the officer was treated in hospital.
It is being forensically analysed to find out which weapon Mr Horspool used.
People living in Sutton St James said Mr Horspool was a "quiet" and "friendly" grandfather who was often seen around the village on his mobility scooter.
Initial medical examinations could not determine his cause of death, but police said their officers fired no shots.
An inquest is expected to open on Friday.