Lincoln County Hospital problem 'due to staff shortage'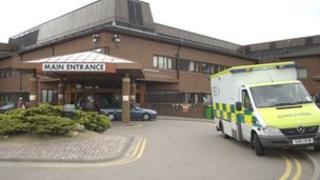 United Lincolnshire Hospitals Trust has said a staff shortage was to blame for "unacceptable failings" in one ward at Lincoln County Hospital.
In a critical report, the Care Quality Commission (CQC) said it was especially concerned with the Clayton ward, which specialises in elderly care.
The hospital said an inspection was carried out when it was short-staffed.
The watchdog identified shortcomings in patient dignity and staff training during in the inspection last November.
'Nursing levels down'
Dr David Levy, medical director for the trust, said the CQC found good practice in many other areas across the hospital.
"This is not an issue across the whole of the hospital, it's issues found at one point in time, back in November, on one ward," he said.
"There were a number of nursing vacancies and there was also nursing sickness, which reduced the number of nursing staff available on that ward.
"Older patients have significantly greater needs, they are much more dependant on the nurses.
"If there's a small reduction in the number of nurses on that ward it can unfortunately sometimes have a greater impact on the care provided for those patients."
The CQC's report described one Clayton patient as having been left in a degrading state for half an hour before being cleaned.
Another had been in hospital for two days without being given a care plan.
David Harding Price, from the Royal College of Nursing in the East Midlands, said: "All we're getting from the government is cut after cut.
"Currently its looking to save £20bn, a fifth of the health service.
"If you cut a fifth of your nursing staff, you're obviously going to have problems."
The trust said inspectors had revisited the hospital in January and had given positive feedback on the progress being made.