Sutton St James siege officer was shot in face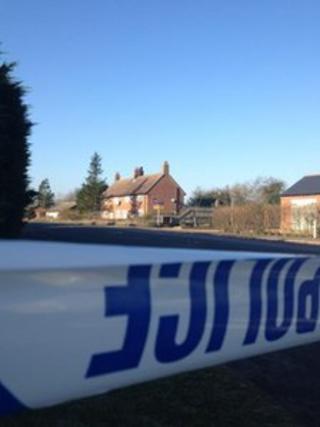 A police officer hurt at the beginning of a siege in Lincolnshire was shot in the face, it has been confirmed.
Two officers were fired upon when responding to reports of an armed man in Sutton St James on Tuesday.
A house was surrounded and the single occupant, 61-year-old Barry Horspool, was later found dead inside. The cause of death has not yet been confirmed.
Despite initially ruling it out, police have now said the officer was hit by a bullet - but only slightly hurt.
Ch Supt Lee Freeman said: "We are now providing as much support as we can to our officer and his family, along with the family of Mr Horspool.
"Once again we would like to thank residents for coping so admirably throughout a lengthy and extremely distressing period of time. We would urge anyone who wants to talk through their concerns to contact their local neighbourhood policing team."
'Quiet grandfather'
Police confirmed two unarmed officers in a marked car were called to Chapelgate in Sutton St James at about 11:00 GMT.
After the officer was hurt, a large part of the village was sealed off for nearly 12 hours.
While Mr Horspool's cause of death has not been determined, police have confirmed no shots were fired by their officers.
An inquest is expected to start next week.
People living in Sutton St James said Mr Horspool was a "quiet" and "friendly" grandfather who was often seen around the village on his mobility scooter.
The Independent Police Complaints Commission (IPCC) has determined it does not need to undertake an investigation.