Sutton St James stand-off: Man was 'quiet grandfather'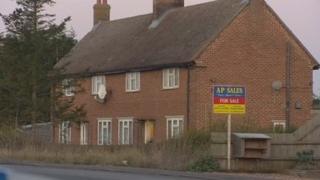 A man who apparently fired a gun at a police officer during a lengthy stand-off was a "quiet and friendly grandfather", according to neighbours.
The man was found dead when police entered a house on Tuesday night in Sutton St James, Lincolnshire, after they were called 12 hours earlier.
Police said armed officers at the scene had fired no shots.
Earlier, a male officer suffered minor facial wounds and was taken to hospital.
Police are trying to establish whether the officer's injuries were caused by the gun, which was fired in his direction.
People living in Sutton St James said the man who lived in the house was often seen around the village on his mobility scooter.
Richard Denham, who lives opposite, said it was a "tragedy for the village".
"Everyone used to see him go up and down on his scooter in a morning getting his papers or whatever from the shop. It's just a shock for everyone to be honest," he said.
Insp Jim Tyner said police were called to the house in Chapelgate at about 11:00 GMT on Tuesday after "a report of a man with a firearm making threats".
Police confirmed that a weapon was discharged and a police officer received minor injuries.
Insp Tyner said: "Officers responded in the normal manner as we would for something like that and what I can say is we had the support of officers trained in the use of firearms from other parts of the region; Leicestershire and Nottinghamshire.
"After several hours of negotiations with the individual inside the house, using trained negotiators, we entered the house at about 11 o'clock last night (Tuesday).
"Officers carried out a methodical search of the house and the body of an adult male was found in an upstairs bedroom."
Insp Tyner said the injured officer had "very minor injuries to his face".
"I was with him yesterday, I went to the hospital with him and I've spoken to him this morning as well and he's doing as well as would be expected under the circumstances," he said.
"I'm not able to confirm how the officer was injured."
The incident was referred to the Independent Police Complaints Commission (IPCC) on Tuesday.
After completing an assessment, the IPCC determined that it does not need to undertake an investigation.
A spokesman said: "The assessment has considered the command and control of the incident and the roles of initial officers at the scene, police negotiators and specialist firearms officers.
"From the evidence available, the IPCC believes police did what they reasonably could to negotiate a peaceful resolution. No shots were fired by police officers."
Resident Phil Newton, 34, said: "The village is in shock. It's a shame it has come to this.
"I've lived in the village all my life and he's always been here.
"He seemed like a quiet guy. My thoughts are with his wife and granddaughters."
A woman who lives nearby said she regularly saw him with his wife and granddaughter.
"He was a lovely man. Kept himself to himself. I've been here 40 years and he's always been here," she said.
"I think he'd suffered a stroke so he had to use his mobility scooter to get around.
"I can't imagine why he'd do this. He was a lovely, friendly guy. He must have had some kind of breakdown to do this."