Victory for Lincolnshire anti-pylon campaign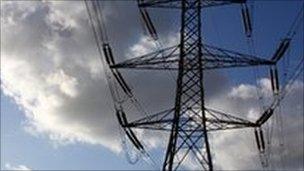 Campaigners are celebrating after plans for a 50-mile line of electricity pylons near the Lincolnshire coastline were scrapped.
The National Grid said it no longer expected overhead cabling between Grimsby and Boston to be used to take power from an offshore windfarm.
Martin Hill, leader of Lincolnshire County Council, said power cables would have blighted the landscape.
One alternative is for the electricity to travel underground.
He said: "It's a tremendous victory for Lincolnshire and we're determined - although we accept the case for renewable energy - to protect the landscape and character of our beautiful county and we're not going to let people turn it into an industrial landscape."
Guy Williams, who runs Skidbrooke Cider, near Louth, which the pylons would have been near to, said he was delighted.
He said there were advantages to taking the cables underground.
"Pylons are susceptible to the weather, both snow, ice build-up and the wind, whereas the weather's much better underground," Mr Williams said.
Councillor Craig Leyland, of East Lindsey District Council, said he hoped either the energy company RWE npower renewables or the National Grid would pay for the cables to run underground.
Jacob Hain, development manager for Triton Knoll Offshore Wind Farm RWE npower renewables, said the project had received an offer from National Grid to connect to the existing Bicker Fen substation using DC underground cables.
He said the company would now undertake further technical and design studies into the electrical system before making a decision on the substation location and cable route.
The company said it was likely to comprise of cables which link the offshore wind farm to the Bicker Fen location and a new electrical substation in the vicinity of the existing National Grid substation at Bicker Fen.
The two substations would be linked by underground cables.
Related Internet Links
The BBC is not responsible for the content of external sites.