The Lawn former hospital complex put on sale by Lincoln council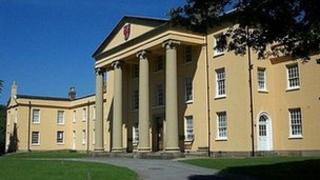 Lincoln's former mental hospital, the Grade II listed Lawn complex, has been put up for sale by the local council.
The buildings, mainly dating back to the early 19th Century, have been owned by the city council since 1986.
Officials said the council could not afford high maintenance and running costs for the venue, which hosts concerts and large events.
Bidding ends on 7 March. The council said the buyer would be selected in the city's "best interests".
During its ownership the authority oversaw the building of a children's play area, a concert and banqueting hall, museum and gallery facilities, a small theatre, a tropical garden plus shops, offices, café units and some parking spaces.
'Difficult' decision
The decision to sell The Lawn was made by the City of Lincoln Council in October 2011.
It provoked criticism over a perceived lack of consultation and a 2,000 signature petition opposed the sale of everything except the main building.
Council Leader Ric Metcalfe said the decision had been "difficult".
"I would like, once again, to reassure the public and the current tenants that we will carry out a very detailed evaluation process, ensuring that the sale is in the best interests of the city.
"Our decision to sell will not be based on price alone, and any sale will be subject to the leases of existing tenants who currently occupy premises at the complex."
The public open spaces surrounding The Lawn - the West Lawn, the recently refurbished play area and much of the public car parking - will remain in council ownership.