Finding homes for retired greyhounds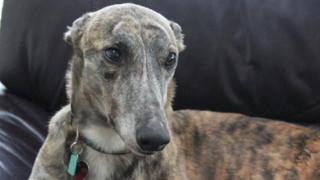 What happens to greyhounds when they reach the end of their racing careers?
For the lucky ones, like five-year-old Rick, who became the 1,000th dog to be rehomed by the Lincolnshire Greyhound Trust, they move on to become valued family pets.
But for others, according to animal welfare campaign group Greyt Exploitations, the outcome is not so positive.
Trudy Baker, co-ordinator for the group, says: "Sadly, these dogs, bred for the gambling industry, are destroyed purely on economic grounds because they are either too slow or won't chase the mechanical lure as puppies.
"Some are destroyed track-side after sustaining injuries, or destroyed simply because no retirement home can be found," she said.
This claim is strongly denied by both greyhound racing's governing body, the Greyhound Board of Great Britain (GBGB), and owner of the Lincolnshire Greyhound Trust, Kevin Stow.
'Complete nonsense'
Mr Stow said: "Without question, sadly some greyhounds are put to sleep when they retire, either because they are unsuitable for rehoming or in some cases because their owners take that option rather than try to find them a home.
"I would suggest that the figures are nowhere near those put about by some anti-racing groups, who claim the majority are killed after racing."
A spokesman for the GBGB said claims that thousands of greyhounds are put to sleep each year are complete nonsense and are used by anti-racing campaigners as an emotive tool to "sensationalise their propaganda".
He said on the very rare occasions that greyhounds sustain an injury unlikely to respond to treatment, any decision on the future of the dog would be made with the advice of the on-course vet.
The spokesman said this did not mean that the greyhound's welfare would be compromised.
The GBGB said that every effort was made to find homes for greyhounds at the end of their racing careers.
The governing body claims the number of greyhounds registered each year to race at licensed racecourses is just over 7,000, which is matched by a similar amount retiring from racing each year, with more than 4,000 being rehomed by the Retired Greyhound Trust.
It said all greyhounds were micro-chipped at the point of registration and detailed markings and records were kept for each greyhound to ensure ease of identification during and following their racing career.
But Ms Baker believes the GBGB does not do enough, or spend enough money, to rehome greyhounds when they retire.
But she said that despite opposing the sport of dog racing and calling for its abolition, she does support the work of charities which help to rehome retired greyhounds.
She said: "Greyhounds are obliging, gentle and predominantly docile creatures that make wonderful companions - I have the pleasure of caring for four of these beautiful dogs myself."
The GBGB said it spends about £4m on greyhound welfare annually, which includes grants of about £1.7m awarded to the Retired Greyhound Trust and £232,000 in grants to trainers to improve their kennel and transport facilities.
However the Lincolnshire Greyhound Trust said it relied on donations from owners and trainers to help rehome the dogs in its care.
The GBGB estimates that greyhound racing attracts annual audiences of three million, with £2.5bn wagered on dog races each year.
Elgeetee Rick, formerly known as Picoddo Rick, was one of the lucky ones to be taken in by the Lincolnshire Greyhound Trust.
He became the 1,000th dog to be rehomed by the independent charity, which works closely with the Retired Greyhound Trust to rehome animals in the local area.
For his new owners, Vicki and Dave Wells, Rick became the second greyhound they had taken from the trust.
Founder of the charity Kevin Stow said: "We take dogs from all over the country, although the majority are from the local tracks such as Doncaster, Nottingham and Peterborough.
"A lot of owners take their dogs home when they retire, however there are many people who would rehome a retired racing greyhound who would not consider racing one."
Mr Stow added: "Greyhounds are very adaptable and because they come from a kennel environment they usually have no preconceived ideas of what home life should be like.
"They adjust quickly, as opposed to rescue dogs, who have usually already lived in a home.
"Greyhounds make superb pets because they are lazy and are very tolerant of people."