Peter Moore hopes for return of Alan McMenemy's body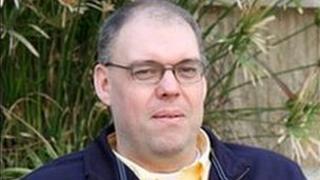 More than most, Peter Moore hopes there is truth behind reports the body of security guard Alan McMenemy is about to be released by an Iraqi militia.
Mr Moore, 38, from Lincoln, was the man Mr McMenemy and three others were in Baghdad to protect.
Kidnapped in May 2007, the IT expert was the only one of the five to emerge alive and has a unique experience of the captors and their promises.
"They have made claims like this before," he said. "That they are going to release the body, though this is the first time the (militia) leader has said it.
"So seeing is believing. I am a little bit sceptical but I hope it happens and I hope it happens quickly."
He added: "It brings closure to the whole thing for me, and obviously for the McMenemy family, but I am not overly convinced anything is going to happen quickly."
Mr Moore was seized along with Mr McMenemy, from Glasgow, who was 34 when he was taken, and Alec MacLachlan, 30, of Carmarthenshire, Jason Swindlehurst, 38, of Lancashire and Jason Creswell, 39, also of Glasgow, by a group of men dressed as Iraqi police.
The bodies of three of the bodyguards were released in June and September of 2009 and Mr Moore returned to the UK in December of that year.
He said that while bodies had often been used as bargaining tools with western governments, it was unclear why Mr McMenemy's remains had been kept since the US and UK had left Iraq.
"In the interview this leader just gave, he spoke of technical or logistical problems.
"One theory is they could not recover the body as it was in a militia-controlled area they had lost control over.
"Another is that by keeping the body so long, physical evidence of how and when death occurred will be lost."
Mr Moore has continued working abroad as an IT consultant since his release, most recently in Guyana, which he described as "not a normal holiday destination".
He said: "My perception of risk has changed. What I perceived to be dangerous before I no longer see as that dangerous.
"When I first went to Guyana it was classified as dangerous but now I don't think it is anything like that. You just have to be careful."
"Iraq was an extreme case and I don't expect to be in a situation like that again."