North Hykeham 'murder-suicide' man was 'uncontrollable'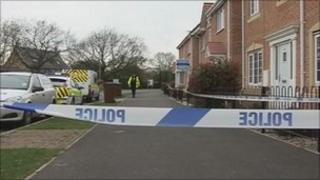 A Lincolnshire man who police believe murdered his girlfriend before hanging himself was aggressive and scary when drunk, an inquest has heard.
Kurt Tyrrell, 26, drank four bottles of vodka with his friends on the night he is thought to have killed Katy Winchester, 21, the coroner was told.
The hearing was told that Tyrrell was uncontrollable after he had been drinking.
The couple were found dead at Mr Tyrrell's North Hykeham home in April.
Miss Winchester, who was originally from Sleaford and was studying at Manchester Metropolitan University, had been strangled.
Street sealed off
Mr Tyrrell appeared to have hanged himself, the inquest was told.
Miss Winchester's father, Frank, told the hearing that, although the couple had seemed very happy together, it had become apparent they wanted different things from the relationship.
He said he had become concerned about his daughter after she had failed to make an appointment.
Eventually he arrived at Mr Tyrrell's house to find the street sealed off.
The coroner heard that the couple, who had been dating for some time and had booked to go on holiday together to the Canary Islands, had met up at a bar on 3 April.
Tyrrell had already been drinking heavily with friends, the coroner was told.
Miss Winchester and Mr Tyrrell were found dead in his bedroom later after his housemates had raised the alarm.
Police said at the time they believed Mr Tyrrell had murdered Miss Winchester before killing himself.
The inquest continues.