Centre would tackle 'lack of support' for rape victims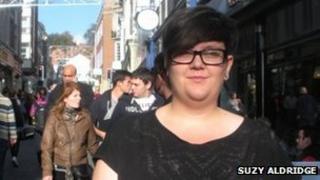 Women who say there are limited sexual violence services in Lincolnshire plan to provide their own support for victims.
University of Lincoln graduate Sally Rate argues that the county's rural geography makes it difficult, if not impossible, for victims of rape and other sexual offences to get help.
The nearest Rape Crisis Centre for victims is in Nottingham.
Now Miss Rate and nine other women are setting up Lincolnshire's first centre.
Miss Rate, 25, said: "Any experience of sexual violence is enough to make a woman feel degraded and abused, and one of our aims is to raise awareness of, and challenge public attitudes about the acceptability of rape, sexual violence and sexual molestation."
'Vast number of women'
Miss Rate, who also works as an officer for Lincolnshire County Council, cited a report by the a report commissioned by the Equality and Human Rights Commission, in conjunction with the End Violence Against Women campaign.
"Within this report they produced maps to show which areas offered most support, and it soon became clear that one of the areas lacking in support was the East Midlands, and in particular Lincolnshire," she said.
"A women from Lincolnshire who wants to access Rape Crisis support needs to contact a centre in Nottingham for her closest avenue, and with Lincolnshire's rural geography this is more often than not difficult if not impossible to do."
After graduating from the University of Lincoln in 2009, Miss Rate worked at a Rape Crisis centre in her home city of Peterborough.
She decided to set up a centre in Lincoln six months ago, after moving back and being unable to find a centre to volunteer at.
Lincoln has a Sexual Assault Referral Centre (SARC), called Spring Lodge, which helps victims immediately after they have been assaulted.
However, Rape Crisis Centres help women regardless of when they experienced sexual violence.
"We talk to a vast number of women who want support with historical cases of abuse and rape," said Miss Rate.
Rape Crisis volunteers need to be women and the centres only offer support to other women, but they also have links with services for men.
The volunteers hope to get a centre running in Lincoln by late summer or early autumn 2012, after finding accommodation and funding.