Red Arrows RAF Scampton move plan to be reviewed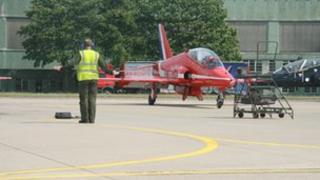 Plans to scale down operations at the Lincolnshire RAF base which is the home of Red Arrows are to be reviewed.
In 2008 the Labour government said RAF Scampton would be downsized and the Red Arrows moved to RAF Waddington.
This was put on hold last year and now a statement from Defence Secretary Phillip Hammond has confirmed the decision will be reconsidered.
A final decision is due in 2012 but he added that the original plan to move the Red Arrows was still an option.
'Value for money'
The 2008 announcement said operations at RAF Scampton, including the air control system known as ASACS, would be reduced and nearby RAF Kirton-in-Lindsey would shut.
The scale of the changes was not specified but the Red Arrows - officially called the RAF Aerobatic Team or RAFAT - were due to move by July 2011.
But the Strategic Defence Spending Review and operations in Libya meant the plan was suspended.
In his statement, Mr Hammond said: "The RAF will now consider future basing options for both the RAFAT and the ASACS units and make recommendations on options to deliver operational effectiveness and value for money.
"This will include recommendations on whether RAF Scampton should drawdown by 2014 as previously announced."
Mark Sturgess, director of regeneration and planning at West Lindsey District Council, said: "I think this gives us the opportunity to make the case for Scampton - how important it is to the local economy and how important it is in giving the area a sense of identity, especially in terms of the future of the Red Arrows.
"As long as the government are willing to talk about this issue and hear how important it is to the local area then I think that's got to be positive."