Superfast broadband to 'benefit 90% of Lincolnshire'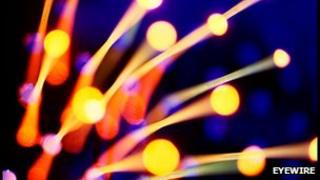 A new project will bring superfast broadband to at least 90% of homes and businesses in Lincolnshire by 2015, the county council has pledged.
The authority has agreed to add £10m to a central government grant of £14.3m to upgrade the county's broadband network with fibre optic cables.
It hopes to make the service available to rural communities overlooked by commercial operators.
Lincolnshire County Council's Kelly Smith said it was "major good news".
He said: "This is the first time we've had such a widespread project on this scale.
"We're going to be installing fibre optics which aren't there at the moment and upgrading equipment and exchanges - upgrading the basic infrastructure around the county.
'Attract investment'
"Time after time we hear stories about businesses who are fairly close to places like Lincoln which can't get adequate broadband speed. Hopefully this project will solve some of those issues."
Mr Smith said the council hoped to attract investment from the commercial sector and other local authorities to meet the full cost of the project, which could run to £50m.
He said the council planned to appoint a contractor for the project by the end of 2012.
BT has already announced it is extending its roll out of superfast broadband to include its exchanges in Grantham, Spalding, Gainsborough and Bourne.
Mr Smith said the council would be looking at alternative ways of providing the high-speed service to the remaining 10% of the county's homes and businesses which would not benefit from the project.